Privacy Policy
This website is owned and operated by Priority One Financial Services, Inc. and its subsidiaries (collectively, "Priority One Financial Services", "Priority One" "us", "we", or "our").
We are dedicated to earning and maintaining your confidence and trust in the protection and usage of your personal information. Read below to discover more about our processes for the protection, collection, usage and sharing of your information as part of the services we perform on your behalf through technology platforms and the dealerships and financial institutions through which we work.
This privacy policy applies to this website, owned and operated by Priority One on which this privacy policy is displayed, as well as websites of Priority One subsidiaries. Such websites shall be hereafter referred to as the "Website(s)" or "Site(s)", whether individually or collectively.
Priority One's commercial loan Websites are designed for businesses and are not intended for individuals' personal, family or household use. Accordingly, we treat all personal information collected for commercial loan products, including information about any visitors to our website, as pertaining to individuals acting as business representatives, rather than in their personal capacity.
Information We Collect
Identifying Information: We collect information that could identify you such as, but not limited to; your name, address, telephone number, mobile number, and email address.
Other Information:  Information such as data regarding your online activity, demographic data, and other information that is not used to identify you may also be collected.
How We Collect Information
Information provided by you: We collect information from you, by but not limited to; when you provide it in connection with an inquiry into our Services. This information could be provided via an online form, hard copy form, credit application, over the phone, email, submitted by fax, communicated through one of our dealership partners or via other means in which you interact with us regarding our Services.
Information from service providers: Information regarding your financial profile, home, or other demographic information is collected from third-party service providers, such as credit bureaus, insurance carriers and service providers who may have such data.
Information from cookies and other tracking technologies: We use cookies, web beacons, and similar technologies to track the use of our Sites, record your preferences and collect Information. This information may include internet protocol (IP) addresses, browser type, internet service provider (ISP), referring/exit pages, operating system, date/time stamp, and/or clickstream data. This automatically collected log information may be combined with other information we collect about you. You have the option of setting your web browser to refuse cookies, or to alert you when cookies are being sent. If you choose to do so, please note that some parts of our Site may not function properly. Use of the Site implies acceptance to the use of cookies.
How We Use Information
We may use the information we collect for the purpose of:
i. Delivering the products and services you requested
ii. Improving our customer service
iii. Improving our Site
iv. Personalizing your user experience
v. Communicating with you regarding products or services in which you may have and interest
vi. Managing our business
Who Do We Share Your Information With?
Priority One affiliates and subsidiary companies: We may share information about you or provided by you with the Priority One affiliates and subsidiary companies owned by Priority One while processing a transaction requested by you.
Network Partners: In submitting a paper application or form, providing information by phone, making an inquiry or using another Service provided through the Website or accessed through a Priority One dealership partner, you agree that Priority One may share information about you or provided by you with lenders, insurance carriers and other third parties which provide services to our consumers in our network (collectively, "Network Partners") to deliver the products and services you have requested. 
Pursuant to the agreements between Priority One and its Network Partners, if you select a Network Partner through Priority One or a Priority One subsidiary, Priority One may also receive information about you from that Network Partner including, but not limited to, the amount or disposition of your Loan and/or details of insurance coverage obtained through a Network Partner.
For the purpose of providing you with information about financial services and products, Priority One and its Network Partners may exchange information about you, your loan terms, your insurance policies and your accounts. Priority One may maintain this information when required by law, or to assist with litigation, regulatory request(s), law enforcement requests, internal analytics, marketing purposes, or for any other legally permissible purpose.
Priority One Service Providers: We may share information with Service Providers that perform certain services on our behalf including, but not limited to, credit bureaus, marketing partners, or entities providing warranty products, credit protection products, insurance products, business analysis and/or website or product support.
Other Situations: We may also disclose information about you or provided by you for the following, but not limited to:
i. In response to a court order, a request for cooperation from a law enforcement agency, self-regulatory body, or other governmental agency, a subpoena or similar investigative demand; to defend against legal claims; to establish or exercise our legal rights; or as we reasonably believe is required by law. In such cases, we may raise or waive any legal objection or right available to us.
ii. When we have determined disclosure is warranted in order to investigate, prevent, or take action regarding actual or suspected illegal activity or other wrongdoing; to protect and defend the rights, property, or safety of the Priority One Business, our users, our employees, or others; or to enforce the terms and conditions governing our Site or other agreements or policies.
iii. In connection with the sale of Priority One or any subsidiary entity, brand or division thereof, a divestiture, merger, consolidation, asset sale, bankruptcy or other substantial corporate transaction involving the Priority One Business.
iv. In connection with state and/or federal licensing requirements regarding the reporting of information contained in the loan and/or insurance inquiries we receive from you. You authorize Priority One to obtain any and all required information from the Network Partners that have interacted with you in order for Priority One to comply with current laws and regulations as well as with any requests from state or federal regulators. This information could include, but is not necessarily limited to, the loan and/or insurance policy, credit protection or collateral protection product you selected and the terms of the loan and/or insurance policy or protection product you selected.
v. In our discretion and where not prohibited by law, we may share information with third parties that is not personally identifying, such as anonymized or aggregated data.
Cookies and Do Not Track
We may use cookies and other technologies such as web beacons and pixels to collect information about your online activities over time and across third-party websites or online services or which may allow a third party to track your online activities over time and across different sites when you use the Websites.
We reserve the option not to participate in "Do Not Track" browser settings or signals.
Summary - Personal Information Collection, Use and Sharing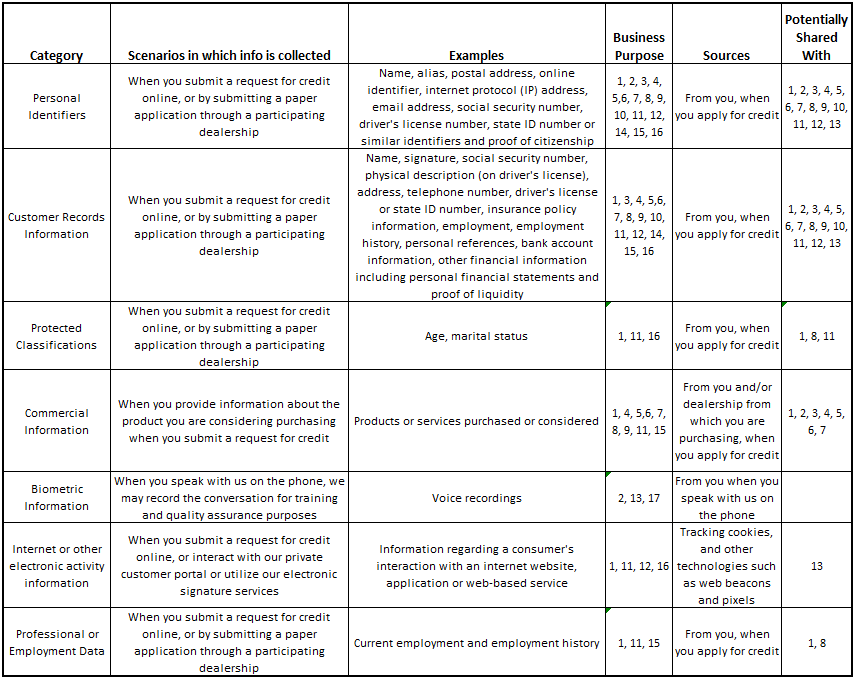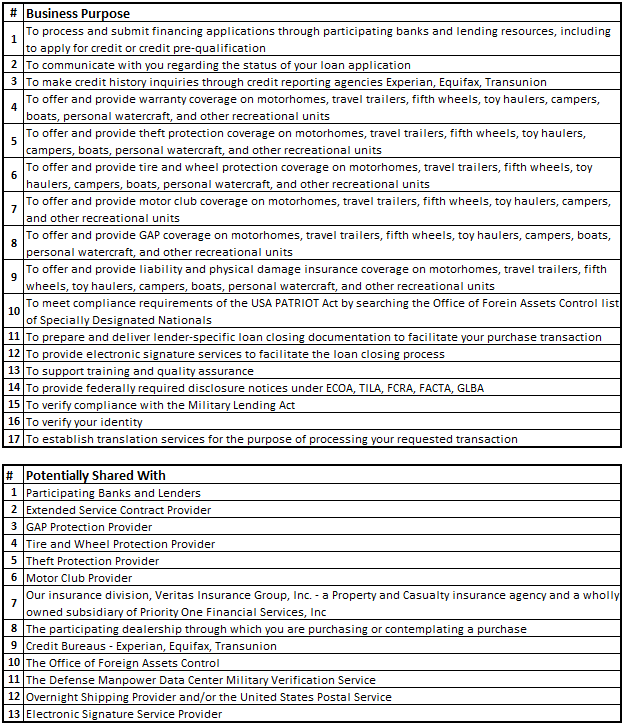 Marketing and Communications
Communications: You may modify your preferences by clicking on an unsubscribe link at the bottom of certain emails sent from Priority One.
Advertising on third party sites: We may use third-party tracking technology, which allows targeted advertisements to you from Priority One Businesses. A separate opt out method may be offered by these companies.
Updating and Accessing Your Information
If you have submitted a loan request through us, you can update your information by contacting us at (800) 747-6223. Other method(s) for accessing your information may be available. Depending on the respective Site or service you have used, you may have the ability to view or edit some of your information online using the respective Site or service's interface.
How We Protect Your Information
We use physical, electronic, and procedural security measures, which follow industry standards, to help safeguard your information from unauthorized access and disclosure. We use enterprise-level firewalls and other intrusion detection and prevention controls to help prevent unauthorized persons from gaining access to your information. We use encryption in the transmission of your information between your system and ours. We also require employees to comply with information security safeguards and pass annual training exams regarding information security.
Security threats are constantly evolving, and no system can be completely secure. Therefore, although we take significant measures to safeguard your information, the security of your information, searches, or other communication cannot be guaranteed.
Changes to this Privacy Policy
Priority One has the discretion to update this privacy policy at any time. When we do, we will revise the date at the top of this page. You are encouraged to check this page frequently for any changes to stay informed about how we are helping to protect the information we collect. You acknowledge and agree that it is your responsibility to become aware of modifications by reviewing this privacy policy periodically.
Visiting our Websites From Outside the United States
The business operations of Priority One are conducted exclusively within the United States. The Site is governed by the laws of the United States and is intended for the use of individuals connected to the internet from a physical location within the United States only. We make no representation that the Site is governed by or operated in accordance with the laws of any other nation.
Compliance with Children's Online Privacy Protection Rule
This Website is not intended for individuals under 18 years of age, and we do not knowingly collect personal information from individuals under 18. If we learn we have collected or received personal information from a person under 18 without verification of parental consent, we will delete the information. Please contact us at (800) 747-6223 if you believe we might have any information from or about a person under 18 years of age.
Online Tracking Opt-Out Guide
Like many companies online, we use services provided by Google, Facebook and other companies that use tracking technology. Below we have summarized a number of ways to opt out of having your online activity and device data collected through these services:
Blocking cookies in your browser.  Most browsers let you remove or reject cookies, including cookies used for interest-based advertising.  Follow the instructions in your browser settings to block, reject or remove cookies.  Many browsers accept cookies by default until you change your settings. 
Blocking advertising ID use in your mobile settings.  Your mobile device settings may provide the ability to limit use of the advertising ID associated with your mobile device for the purpose of targeting interest-based advertising.
Using privacy plug-ins or browsers.  You can block our websites from setting cookies used for interest-based ads by using a browser with privacy features, like Brave, or installing browser plugins like Privacy Badger, Ghostery or uBlock Origin, and configuring them to block third party cookies/trackers.
Platform opt-outs.  The following advertising platforms offer features that let you opt-out of the use of your information for interest-based advertising:
Google: https://adssettings.google.com
Facebook: https://www.facebook.com/about/ads
Twitter: https://twitter.com/personalization
Priority One is not affiliated, associated, authorized, endorsed by, or in any way officially connected with the companies associated with the above sites and is not liable for any damages arising in any manner or otherwise from the use of the above sites. All product and company names are trademarks™ or registered® trademarks of their respective holders.
How to Contact Us
If you have any questions about this privacy policy, the collection, handling, retention or deletion of your personal information, the practices of any Priority One Business, or your dealings with a Priority One Business, please contact us at:
Compliance Manager, Priority One Financial Services, Inc., 742 2nd Avenue South, St. Petersburg, FL 33701
or privacy [at] p1fs [dot] com
Privacy Practices
We do not sell personal information. Therefore, we do not offer consumers an option to "opt out" of the sale of their personal information.
We automatically delete consumers' personal information from our network. Therefore, we do not offer consumers an option to request deletion of their personal information. We retain limited, specific sets of personal information, for designated time periods, solely for internal business reference and for legal and audit purposes. For more detailed information regarding the deletion and retention time periods for your personal information, email us at privacy [at] p1fs [dot] com.
Through the use of our services – for example, by opening an account or initiating an application for financial product or services – you direct us to disclose your information to companies that provide the services in which you are interested.
Please note that we may also disclose all personal information (a) to comply with federal, state, or local laws; (b) to comply with a civil, criminal, or regulatory inquiry, investigation, subpoena, or summons by federal, state, or local authorities; (c) to cooperate with law enforcement agencies concerning conduct or activity that we believe may violate federal, state, or local law, (d) when we sell, transfer or otherwise share some or all of our business or assets, including your personal information, in connection with a business transaction (or potential business transaction), or (e) to professional advisors, such as lawyers, bankers, auditors and insurers, where necessary in the course of the professional services that they render to us.
NOTICE TO CALIFORNIA RESIDENTS
Priority One does not fall under the jurisdiction of the California Consumer Privacy Act of 2018 ("CCPA") to provide to California residents a separate explanation of how we collect, use and share their personal Information, and of the rights and choices we offer California residents regarding our handling of their personal information.
CCPA Scope and Exclusions
The description in this Notice of our Privacy Practices and your Privacy Rights apply to California residents.
Notice to Texas Residents
Priority One deploys substantial technical, administrative, and physical data security practices to protect Texas consumers' personal data. Priority One does not engage in the sale of personal data. Priority One does not share personal data with unaffiliated third parties unless that sharing is in the course of executing a transaction that has been requested by the consumer.
Texas residents have specific rights regarding the privacy and processing of their personal data:
To confirm whether Priority One is processing the consumer's data
To access the consumer's personal data
To correct inaccuracies in the consumer's personal data
To delete personal data provided by or obtained about the consumer
To obtain a copy of the consumer's personal data that the consumer previously provided
Priority One does not participate in targeted advertising, the sale of consumers' personal data, or profiling. Therefore, Priority One does not provide an opt-out option for these activities. A consumer who is a resident of Texas may exercise their rights under the Texas Data Privacy and Security Act by submitting a request specifying the rights the consumer wishes to exercise. Requests can be submitted by:
Completing the submission form, which can be accessed by clicking this link: https://p1fs.com/texas-privacy-form
Sending an email to privacy [at] p1fs [dot] com including:

a description of the rights the consumer wishes to exercise (reference the list above)
the first and last name of the consumer
a phone number at which the consumer can be contacted
the last 4 digits of the consumer's social security number
the name of the dealership through which the credit application was submitted
the type of unit being purchased (i.e. – RV, Boat, PWC, Park Model, ATV, UTV, Side-by-Side, Motorcycle, Slingshot, Can-Am, etc.) To process a consumer's request, Priority One must first authenticate the identity of the requestor. Consumers that exercise their rights may be asked to provide identification information. If, for any reason, Priority One is unable to fulfill the consumer's request, the consumer may appeal the decision in writing by emailing privacy [at] p1fs [dot] com with an explanation and supporting information. Priority One will respond to all requests within the time limits established by the state of Texas, which may be no later than the 45th day after the date the request is received, or in the case of appeals, the 60th day.